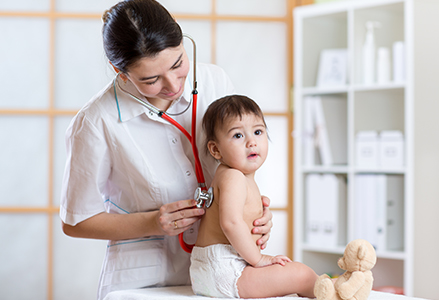 Children's nervous system diseases are very different from those of those afflicting adults. Typical children's neurological problems include : fits or convulsions, delayed nervous system maturation problems ( delayed speech, motor development, etc ), diseases due to birth defects of the brain, spinal cord, nerves and muscles, and infections of the brain, its coverings ( meninges ) or nerves caused by both bacteria, viruses and other agents including parasites. Certain muscle diseases and disorders occur commonly in children either due to genetic defects, improper nervous system control of muscles and infections and exposure to toxins. Many nervous system diseases in children and newborns are of an acute nature ( sudden onset, and of short duration onset ). Some are chronic ( slow to develop and progress gradually. Nervous system disease in children and newborns requires a methodical, systematic approach to diagnosis and treatment. Delayed diagnosis and improper treatment can lead to permanent brain and nervous system injury and even death.
The Children's Neurology services at Kisholoy Children's Hospital are a well established programme with a team approach from children's neurologists, children's neurorehabilitation specialists, and in acute settings, children's intensive care specialists. We take immense pride in saving hundreds of children with nervous system diseases, and markedly improving their functioning after an integrated approach.
• Evaluation of seizures (fits) and Epilepsy in children.
• Diagnosis and treatment of all types of brain infections
• Evaluation, management, rehabilitation and follow up of all chronic brain related conditions eg. Cerebral Palsy, brain defects, post meningitic or encephalitic sequelae.
• Evaluation and management of all types of nervous system and developmental delay
• Evaluation and management of headache and sleep disorders in children
• Evaluation of brain related birth defects like muscular dystrophy, Rett's syndrome, mitochondrial encephalopathy, neurodegenerative disorders etc.
• Evaluation, diagnosis, management and follow-up all types of brain tumours


Diagnostic Services Offered :
• Brain Imaging Services : Neurosonography ( Ultrasound ), Computed Tomography ( CT Scan ), Doppler Studies
• Nerve Conduction Studies, Muscle Function Studies ( ENMG, EMG testing )
• Fits and Epilepsy Diagnosis : Brain electrical function studies, Brain electrical mapping and recording, Video and simultaneous electrical brain recording testing ( EEG, Video EEG )
• Testing of Special Senses : Retinal Brain Function Testing ( VEP or Visual Evoked Potentials Testing ), Inner Ear Nerve Function Testing ( AEBR – Auditory Evoked Brainstem Responses )
• Advanced Brain and Brain Blood Vessel Imaging : MRI Scan, MR Angiography of the Brain ( In collaboration with Dept of Radiology, KIMS Hospital, Secunderabad )

Support Services for Children's Neurology Programme :
Children's Neurorehabilitation department works closely with the neurologists
Children's Neurosurgery department supports any surgical intervention as and when needed.